Warming Up the Cold Call: Choose Your First Sales Qualification Question Carefully
Imagine you walk into a store you've never been in before. As soon as set foot inside the door, you're approached by someone wearing a name tag and a huge, insincere smile.
"Welcome to THE STORE. Will you be paying by cash or credit?"
Startled, you manage to stammer "I-I'm just looking, thanks."
"Great! Want me to hold onto your credit card for you while you shop?"
You'd figure out really quickly what matters most to people at THE STORE, wouldn't you? It's not about you; it's all about the money – their money. Overly aggressive introductions like these show that the salesperson only wants to close the sale.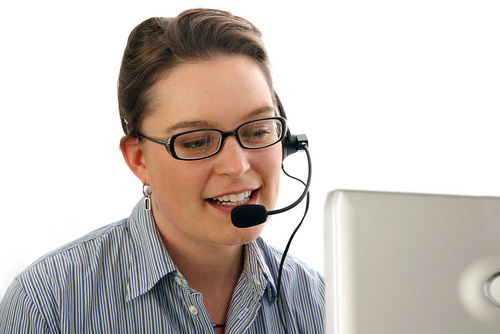 Obviously this is an extreme example, but many salespeople make similar mistakes when opening conversations and qualifying sales leads during appointment setting calls.
Instead of doing the equivalent of blatantly asking for the customer's credit card, your first qualification question should be the least intrusive question that you ask. Why? Your relationship with the decision-maker is brand new. You don't know this decision-maker yet and they don't know you. You don't want to assume too much or sound too eager or appear pushy. Instead, you should use a softer approach that lets you be consultative and helpful.
Asking a question like "Are you in the market for a new system?" without first developing a relationship is going to be perceived as pushy.  You don't want to come across as someone who's only after the sale, only interested in your commission. These types of hard-sell tactics are the hallmark of fly by night operations, inexperienced salespeople, or untrustworthy types that good customers won't want to buy from.
When you're in the process of appointment setting and qualifying business leads, you will increase your chances of getting qualification questions answered if you slow down your process. Don't be in too big of a hurry to "make The Ask." Instead, build a relationship first.
Here are a few examples of good opening questions that you can use when qualifying sales leads:
I noticed you are a Microsoft Solutions Partner…how helpful has that been to help you open doors?
I noticed that you are using bar-coding in your warehouse; how has that been working out?
I read recently that you just won Toyota Manufacturing as a new account. Congratulations. That must be huge! (Okay, that's not a question…but it does show that you took the time to find out about their business, AND it sets up the questions about how they plan on handling the influx of new work.)
The processes of lead generation, appointment setting, and qualifying sales leads are not the same as sales. Too many salespeople make the mistake of chasing the sale and trying to close the deal far too early in the process – when they should be focused on appointment setting instead.
Lead generation and appointment setting is a matter of figuring out whether or not a prospect is a right fit for your product or service. They're not all going to buy from you. They're not all going to meet with you – and if you have a good appointment setting program, you know that you don't WANT to meet with all of them because it will take up valuable time that could be devoted to other prospects.
Even though you're a salesperson, asking for the sale upfront is not the way to do successful appointment setting calls. Instead, when you're focused on qualifying sales leads and doing appointment setting, you need to leave your "sales hat" at the door. Remember you're trying to find out whether or not there is a way you can help this person. In order to know that, that person has to tell you what sort of help he or she needs. And before he or she tells you that, they have to trust you first.
Are you looking for fresh insights on your appointment setting process? Talk to Strategic Sales & Marketing. Our team of experienced appointment setters helps our clients with B2B lead generation and appointment setting services, creating better qualified B2B sales leads and bigger sales results. Contact Strategic Sales & Marketing for a free quick quote or a free, no-obligation Test Drive of our appointment setting services.