QUICK LINKS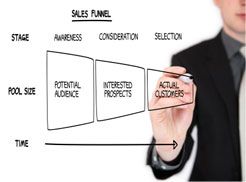 A Few Words About Strategic Sales & Marketing
Since our founding in 1989, SSM has completed over 50 million new business sales presentations to high level decision makers and generated over 7 million sales leads. Our Major Account sales lead generation services and appointment setting are targeted to those companies whose primary focus is selling "complex" B2B products and or services. These types of sales are usually "non commodity" items and may also have one or more of the following characteristics:
• Decision makers that are typically at the Owner, Director, VP or C level of contact.
• Sales that require multiple sales calls (typically over a period of time) to close.
• Selling situations where the prospect may be asked to make a large purchase.
Typically our clients are utilizing a "solution sell process" and therefore require lead generation where prospects have a challenge, problem or issue that needs to be resolved. Hire SSM as your b2b sales lead generation partner and grow your company rapidly.
Join Our LinkedIn Group!
Join over 6,000 business owners and sales professionals discussing a range of sales topics such as Sales Lead Generation, Lead Management, Appointment Setting, Lead Generation, and Content Marketing. Now we are ranked #1 lead generation companies at clutch.