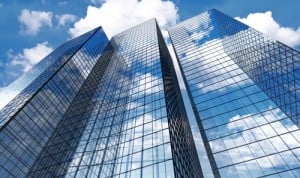 Selling to big companies is one of the major focuses of many B2B sales organizations, whether you have an existing major account lead generation effort in place, or whether you're a smaller B2B company trying to acquire some larger corporate clients. Big companies offer big rewards, just by nature of their size – bigger budgets, more complex (and lucrative) business needs, and bigger opportunities for the long-term growth of your business relationship.
Unfortunately, many B2B sales people get intimidated by selling to big companies. There are some common obstacles and misconceptions related to selling to big companies, but you don't have to let the size of the company or the (seeming) complexity of the organization keep you from pursuing the opportunity.
Here are a few tips for how your sales team can close more sales with big companies:
Prove that you're no fly-by-night organization: One of the biggest objections that big companies have to doing business with smaller organizations is that they're worried that the smaller companies (or their solutions) won't be around in a few years. Big companies tend to have longer timelines and need to purchase solutions and services for the long haul. During your sales process in talking with decision makers at big companies, be prepared for this type of objection or skepticism. Look for ways to build trust and show that your company is well established and is determined to be around for a long time to come.
Show that you have capacity: Another concern that big companies usually have when talking with new contractors or solutions providers is: "Is your company big enough to serve our needs?" Big companies don't want to work with small companies who don't have enough capacity to deliver what they need. To overcome this objection, show examples of big contracts that your company has handled, and offer references from decision makers at other big companies. Demonstrate that you can handle challenges just like the ones faced by your big corporate clients, and you'll start closing more deals.
Sell small before you sell big: Don't expect a big corporation to buy your full offering of solutions. Chances are, a company of that size already has plenty of existing vendor relationships in place – and will be reluctant to go through all the inconvenience and upheaval that goes with putting a big contract out to bid, unless they have a very compelling reason to do so. Instead of pitching a big corporation on a comprehensive package of solutions or services, start small. Do your research, talk with your prospects, and identify a highly focused problem that you can help solve. Once you can convince your prospect of the value of your service, even if it's a much smaller contract than you would normally go for, you can build up your credibility and make bigger sales to other parts of the company in the future.
Talk in terms of benefits: One of the biggest B2B sales mistakes is talking about your company and your product in terms of "features" instead of "benefits." Remember that every prospect is thinking, "What's in it for me?" And this is especially true at big companies, where time is short, budgets are tight, and decision makers are being bombarded from all directions with too much work, too little time, and too many sales calls interrupting their day. So before you start cold-calling big companies, make sure your sales pitch is extra sharply focused on the problems that you solve: can your solution increase productivity, achieve cost savings, or reduce head count? Capture the attention of your prospect by honing in on the biggest problems they want to solve – and explain in clear language how your solution can help.
Track your contacts: Selling to big companies requires a longer-term effort and a more sophisticated way of tracking your outreach. Plan ahead for which sales pitches and value propositions you want to emphasize within the different parts of the company and the different decision makers. Set up a dedicated campaign in your CRM system (or keep track on a spreadsheet) where you keep names, contact information, and detailed notes of every person you've talked to at the big company – whether they're a decision maker, gatekeeper or potential ally. Send helpful articles or industry news or event invitations, and keep track of which materials you've sent to which people – and then keep cycling through your lists of names, following up as needed and building relationships along the way.
Selling to big companies requires a specific sales strategy. You need to build relationships just like you would with any sales prospect, but you also need to be sensitive to the unique needs and concerns of a larger company. If you put in the effort and stick with your sales process for the long term, you will find that selling to big companies offers lucrative rewards for your organization.