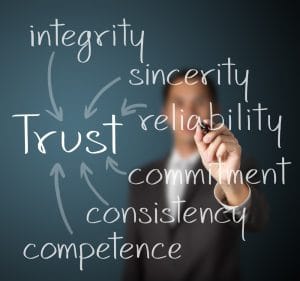 Lead generation is often thought of as being the first step in the sales process – and while there is truth to that, it's important to keep in mind that ideally, lead generation shouldn't really feel like "selling" at all. Lead generation is the first stage of a longer and more involved, complex process. It's the opening to a bigger conversation. With lead generation, you are asking people to begin a longer journey with you – and what does it take to get people to agree to keep talking with you and agree to keep "traveling" with you? That's right: trust. Lead generation is ultimately an exercise in building trust.
Here are a few examples of how to build trust during the lead generation process, and why it matters:
Building Trust with Cold Calls
One of the classic sales techniques – which still is part of the toolbox for lead generation today – is cold calling. Sometimes there's no better way to get in front of your prospective customers than to pick up the phone and start calling. However: that doesn't mean that you should just indiscriminately start calling people and bombarding them with sales pitches. Cold calling itself requires elements of trust building. How do you build trust on a cold call, especially if you don't know the person you're talking to? By doing your homework first. Do your research. Make sure that the company you're calling is really an ideal fit. Try to do some networking upfront to find the right contact in advance; make sure you're talking to the right person or the right team of stakeholders so you're not wasting people's time.
Cold calling – done right – is an ideal way to build trust, because you are showing the prospects that you have a good reason for calling them. If you can show prospects, starting from that first cold call, that you are well informed about their business and that you care about helping them solve a problem, they'll be more likely to trust you and more likely to keep talking.
Building Trust with Content
Another form of lead generation involves sharing content – whether it's your own company blog or social media posts or activity in LinkedIn groups. The Internet is clogged with content, and lots of it isn't very useful – this is where you can break through the clutter by becoming known and trusted as a great curator of content. If you get known on Twitter or LinkedIn for sharing really smart, useful content – industry trends, breaking news, exceptional thought leadership – even if it's not your own original content – you will make great strides in building trust with your prospects. Your prospects will want to check out your Twitter feed or LinkedIn profile before they talk to you. If they see a steady stream of smart, helpful, relevant content from you – showing that you're up to speed on the latest trends and insights affecting their business – that will go a long way in building trust.
Another way to build trust with content is to share relevant content individually with prospects as part of the cold calling process. For example, the obvious example is to share a white paper or infographic that supports your sales pitch – but as part of your initial conversations with new prospects, you should also look for opportunities to share news articles or other timely content that is relevant to the customer's problem, even if they're not directly related to what you sell. Just be diligent and responsive – these opportunities will emerge naturally out of your conversations with customers.
Building Trust with Referrals
Perhaps the best form of lead generation is when you don't have to make a cold call, but instead can get a "warm" lead from a referral. Referrals are so important, because that new prospect already has a built-in level of trust and willingness to talk with you. However, referrals don't just "happen." Many business owners and sales people aren't proactive at asking for referrals. Don't be afraid or ashamed to ask!
For example, after you close a sale, or a few months after the sales closes and you're checking in on the happy customer, you should build it into your sales process: "Would you happen to know of any other colleagues or contacts who might like to hear from someone like me?" or "I'm glad to hear that you're happy with our solution! Do you know of anyone else who might benefit from what we sell?"
And don't just ask current customers for referrals: feel free to ask former customers, former colleagues, friends of friends, and anyone else in your network who knows you well enough where you would feel comfortable asking them for a contact.
Ultimately, lead generation is not about cold calling and sales funnels and email blasts and "numbers," it's about establishing trust, one person at a time. Every situation that you're in while finding new sales leads and talking with prospects – whether it's a cold call or responding to a sales inquiry or asking for referrals – is an exercise in building credibility and winning people's trust, so that they will give you permission to keep talking and keep leading them through the customer journey.