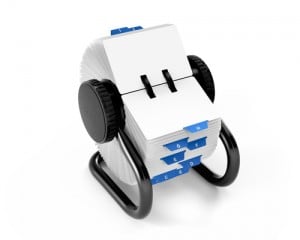 We've been in the sales lead management and lead generation business for the past 22 years, and during that time we've seen a lot of continuous "rebranding" and confusion about what the definitions of "sales leads" and "business leads" really are.
A simple Google search for "sales leads" creates a long list of definitions and companies who are trying to sell business leads or offer lead generation services. At the low end of the scale, companies might try to sell "business leads" that are just a simple listing of the company name, contact name, city, state and ZIP code – without any further intelligence, research or insights. "Sales leads" might also be more complex, containing proprietary and exclusive data that is developed for your company based on your specific qualification criteria.
Before you spend money on a mailing list of "business leads" for your company, do some research and ask questions to find out exactly what you're buying. How much detail have you been promised by the lead generation company? Will there be any additional support offered for appointment setting, or are they basically just giving you a mailing list?
Different lead generation companies offer varying levels of added value. Unfortunately there are less-than-reputable appointment setters and fly-by-night lead generation companies who claim to offer legitimate lead generation services, but who fail to follow up on their promises. If you're going to spend money on lead generation services, you ought to be getting added value, not just a mailing list or phone list that you could have gotten from YellowPages.com.
Another area of confusion in the B2B lead generation industry is that many companies don't seem to understand the difference between a prospect and a sales lead.
While different industries and segments have their own unique terminology, from our perspective, "sales leads" is more of a general term. Anyone who might potentially be interested in buying what you have to offer can qualify as one of your "sales leads." The goal is to convert your sales leads into prospects – highly motivated buyers who are ready to make a decision and buy from you.
Turning a basic sales lead into a promising "prospect" is a matter of understanding pain and motivation. What is the "pain point" or problem that your product/service/solution is going to solve? Do you understand the customer's specific needs and perspectives, and can you adapt your conversation and style to show them that you understand those needs?
Only by understanding the customer's pain and offering a specific solution can you give the customer the motivation to act.
Understanding the customer's needs and motivations is the best way to start with a list of generic "sales leads" (just names on a list) and convert them to a focused, interested, motivated list of ready-to-buy "prospects."
Anyone can give you a list of names and call them "sales leads." The real added value in B2B lead generation services comes from delivering insights in how you can manage your business leads, conduct more efficient appointment setting, and ultimately understand the specific pain points and motivations that drive your customers' buying decisions.
Al Davidson is the Founder and CEO of Strategic Sales & Marketing, a lead generation and appointment setting firm specializing in generating high-quality business leads. Al Davidson and his team have conducted over 50 million business presentations and generated millions of dollars in new revenue for clients in a variety of industries. Talk to Strategic Sales & Marketing to take your lead generation program to the next level.