As we look ahead to the New Year, as part of your organization's strategic planning process, it's important to consider the top B2B lead generation trends. There are several key lead generation marketing trends that will be driving innovation and investment in the B2B space this year.
As you decide which lead generation ideas to invest in, be sure to keep these B2B lead generation strategies at the center of your plans.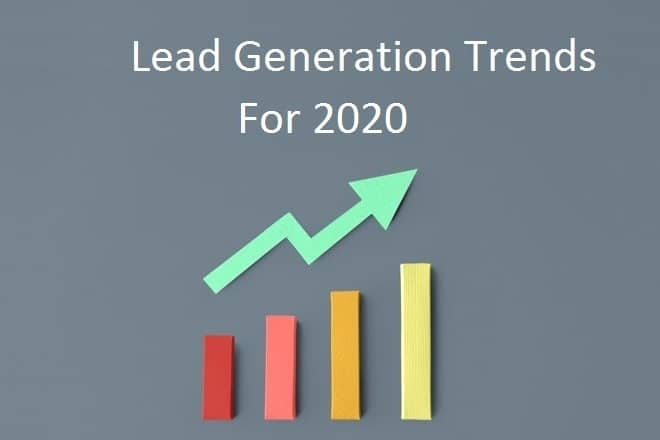 Diversified Lead Generation Portfolio
One of the biggest trends that we're seeing is that more B2B sales organizations are diversifying their lead generation activities. Just as you wouldn't want to put all your eggs in one basket or bet your life savings on a single company's stock, you shouldn't invest all of your lead generation budget in just one or two B2B lead generation strategies. Make sure to strike a good balance between outbound and inbound lead generation: have a good mix of outbound activities like email marketing, direct mail, and cold calls, along with inbound strategies like content marketing, PPC ads, and search engine marketing. There's no one right answer; you need to have a solid blend of lead generation strategies and keep leads coming from multiple directions at once.
Better Qualification of Inbound Sales Leads
Once you "get" the sales leads, what are you going to do with them? Once the emails start coming in, or the phone starts ringing, who takes it from there and accompanies the customer to the next step in the sales process? Lots of companies in 2020 are going to enhance their strategies for qualifying, managing and nurturing their inbound sales leads. Inbound sales leads are precious because they represent real customers who are curious and engaged and possibly ready to spend money with you – but too many companies are letting these leads slip through the cracks! Next year, this has to stop. Your organization can get better sales results by doing a more careful, thorough, and thoughtful job of answering the phone, asking good questions, training your front-line staff to ask sales-oriented questions, and start sorting your inbound sales leads into priority rankings for more effective follow-up from the sales team. Don't just hand over your inbound inquiries to the sales team without knowing who they are or what they're ready to discuss; qualify your inbound leads first.
Personalized Marketing
On that same note, lots of companies in 2020 are going to focus on getting better at personalized marketing. There are many great tools and resources now to improve the personalization of your email messages, target your social media posts with sponsored boosts, and otherwise reach a more precise audience than ever before. But it's not good enough to personalize your outbound marketing. You also need to get better at knowing your customer, identifying your ideal customer personas and pain points, doing your research into key stakeholders and decision-makers within the prospect's organization, and listening to what your audience is saying so you can craft a better sales pitch and anticipate their possible objections, questions and problems along the way.
Online marketing has made it easier for B2B marketers to sorth through a wider array of prospective customers and find the needles in the haystack. The next evolution of B2B marketing is to dive deeper into that haystack to get better data about customers, learn more about customers, and develop smarter insights about what each customer needs. Know your customers on a deeper and more precise level, and the sales will follow.
Mobile-Friendly B2B Marketing
Too many companies still do not have mobile-friendly B2B marketing. Even though your customers are "business" buyers, they are likely using the same mobile devices and mobile-first preferences to engage with your marketing messages as they use in their daily lives as consumers. For example, more B2B buyers are using mobile devices to do research and compare pricing on business purchases.
Is your B2B marketing mobile-friendly enough? Can your white papers and case studies and emails be read easily on small screens? Is your website easy to scan and click-through with a thumb? Don't assume that your buyers are sitting at a desk and looking at a monitor; they might be swiping through your website while at a kid's soccer game.
Back to Basics
B2B marketing technology is great, and there are so many exciting tools and platforms out there to help make your work more efficient. But one of the biggest B2B lead generation trends of 2020 is something more low-tech: picking up the phone! The telephone is still one of the most effective and underrated tools for B2B lead generation. When you talk to your prospects on the phone, you can learn more about their unstated problems and pain points. You can assess how ready they are to buy, uncover additional questions, and correct misconceptions. There are certain nuances of communication and relationship-building that can be best explored by real human conversation, instead of relying entirely on email and marketing automation.
No matter what lead generation ideas you utilize in 2020, be sure to create a balanced approach, with a diversified portfolio of strategies. Be sure to explore new technologies while understanding the value of back-to-basics methods like phone calls and customer relationship building. Most of all, keep putting the customer first. Lead generation companies that put the customer at the center of their efforts will have a steady supply of sales leads for many years to come.