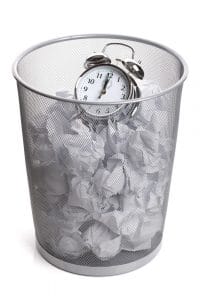 Too many B2B companies are squandering valuable time by talking to unqualified sales leads. It sounds hard to believe, but it's true: according to stats cited by HubSpot, only 56% of B2B sales organizations do not make any effort to verify valid sales leads before passing the leads on to the sales team. As a result, sales reps are being burdened with too many bad sales leads that could have been avoided with a simple process to pre-qualify leads prior to starting the sales follow up process.
The cost of unqualified sales leads is bigger than merely wasting time – you're also missing out on better sales opportunities. By spending time chasing after bad sales leads, you are missing out on the chance to talk to prospects who are much more likely to buy. Better sales results are not always achieved by improving your conversion rates – bigger sales often happen when you improve your upfront processes to better qualify the sales leads that are coming in to your organization in the first place.
Asking the Right Questions for Lead Qualification
The key to effective lead qualification is to ask the right questions. Don't ask "yes or no" questions – instead, look for ways to further open up the conversation and draw out more information from the prospects so you can learn more about them. The goal of asking lead qualifying questions is to probe for "pain" points – problems and issues and frustrations that the prospect is having with their current solution. By asking questions in a smart, subtle way, you can uncover previously unstated pain and figure out which leads are really the highest priority. This makes it easier to rank your sales leads – even if it's just a simple scale of "1, 2, 3" – to sort and follow up with the best short-term sales leads while saving your long-range leads for further nurturing.
Here are a few examples of good lead qualifying questions to help open up a dialogue and draw out valuable information from your prospects:
"How are you using your current solution?"

"What's your overall situation with your current vendor? How satisfied are you with their performance?"

"How does this solution fit into your overall business operations?"

"What you are the biggest business challenges that you're dealing with right now?"

"How soon do you think you might be ready to make a decision?"

"Who else at your organization needs to be involved with approving budget or giving input on the purchase process?"
All of these questions are good ways to create a fuller picture of the prospect's overall business operations, and see how your solution fits into their organization. You will also get a sense of "pain" issues such as dissatisfaction with a current vendor, inefficiencies or productivity problems caused by the current solution, and the prospect's overall timeframe for making a decision. Using this information, you can make a well-informed estimate of which sales leads are truly "warm" and which ones require more time, attention, and nurturing before they're ready to buy.
Sales Lead Follow-up: Ask them to Commit
Qualifying sales leads is an ongoing process. That first phone call to qualify your leads is important, but you also need to keep evaluating and perhaps re-ranking your sales leads as you acquire more information throughout the sales process.
After your initial lead qualifying conversation, if you have a prospect who seems like a good fit and who seems like they're receptive to buying, you need to start them into your organized, methodical sales process or "sales funnel" of working through a series of steps. At each step of the sales process, you need to clearly ask the prospect to commit to agreeing to the next step of the process.
For example, your first step might be "Phone call to thank them for their inquiry, and ask them to agree to have an online demo or web presentation." Your next step might be, "Ask the prospect to agree to provide information to help create an ROI calculation to show how much money your solution can save them." Every step gets you closer to making a sale – but you might need to adapt your approach along the way in case a prospect objects or hesitates. Sometimes good leads go stagnant; sometimes buyers get cold feet. Keep adjusting, re-ranking your leads as needed, and keep building relationships and working through your sales process with disciplined focus, regardless of the status of any particular lead.
How to Get Rid of Unqualified Leads
One of the best ways to stop wasting time on unqualified leads is to stop allowing unqualified leads into your pipeline in the first place. Unfortunately, too many B2B organizations are not doing any meaningful work to qualify their sales leads prior to passing the leads on to the Sales team. For example, according to stats cited by HubSpot, 61% of B2B marketers send all of their leads directly to Sales, but only 27% of those leads are actually qualified.
Lots of B2B companies have only a very basic, inadequate process for accepting and handling inbound sales leads. Maybe you have an administrative assistant who answers phones and forwards calls to the Sales people, maybe you have an auto-response email that automatically goes out to all of your inbound inquiries. Either way, if you don't have some kind of early stage lead qualifying process set up, you are missing out on opportunities.
Just as your decision makers have "gatekeepers" who work to stem the flow of information and control who gets on these busy people's schedules, your company also needs to have a "gatekeeper" to prevent bad sales leads from getting through to your sales team. Your sales people's time and attention are just as valuable as your decision makers – anything you can do to free up your sales people's time from talking to the wrong sales leads, and keep them focused on the right sales leads, is going to pay big dividends for your company.