The majority of businesses find it an uphill battle to generate B2B sales leads for their niche markets. Even marketers spend maximum time looking out on the Internet to generate targeted leads but without any remarkable outcomes. A lot of companies invest hugely as their marketing budget in order to buy expensive sale lead lists from vendors, which doesn't guarantee much success.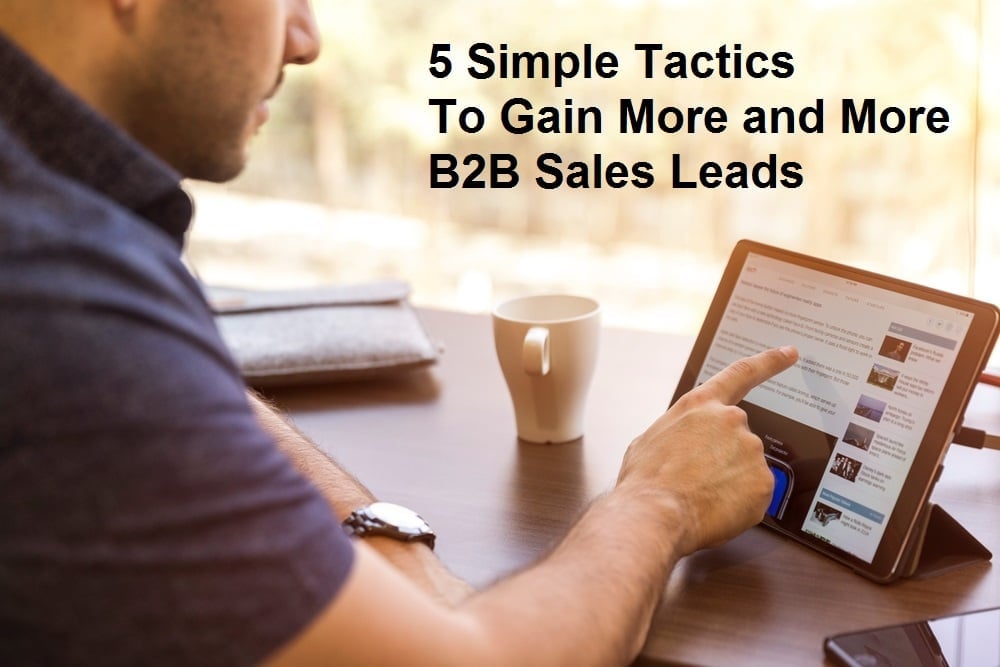 B2B Sales Leads are qualified leads that your sales team can stretch out to sell products/services. Just a few marketers use numerous search techniques and research skills to generate quality B2B sales leads that gets converted into clients. They gain some success but again they have to invest a significant amount of time for B2B lead generation.
According to the Accenture study, 94% of B2B buyers say that they actually conduct online research before making a buying decision.
However, if a pro lead generation company performs B2B sales lead generation with an effective strategy, it will generate your business the best B2B sales and surpass the competition.
Some of the best strategies to facilitate you to generate new and quality B2B sales leads
Shoot cold emails and make warm calls
Make use of merge tags to personalize your cold emails without fail. This is because merge tags enable you to replace the first name or company name in every email so this kind of email that you send will look totally personalized to each and every lead. So, if you send such targeted as well as personalized email you have greater chances of receiving a response from the recipient.
Apart from that avoid making cold calling whom you have had no previous contact with, instead, make warm calls to someone who has heard about your business in the past. So, the person on another end would not hang up on you, which means this is extremely effective if done appropriately.
Nurture leads with marketing automation
After you have collected email addresses, you can leverage marketing automation programs to segment customers to target them with particular messages in order to get the conversion. Your sales team can also convert leads in the marketing funnel to Sales Qualified Leads (SQLs).
Even the use of outbound automation software can bolster in automatically sending personalized emails at scale and nurturing the leads into SQLs.
Set up a live chat on the website
According to studies, 42% of customers choose live chat for customer support questions over other mediums. The live chat tools enable businesses to engage with their customers instantaneously. Companies can gather email addresses as well, and then nurture those leads to generate more B2B sales leads.
Optimize website landing pages
Every landing page should offer an exact solution for what the customer is looking for, either by clicking a specific keyword search or by viewing some advertisement on Google. To increase sales lead, make use of conversion optimization like a call to action (CTA). Or else for a free gift like eBook, whitepaper, datasheet, you can ask the visitor to leave their name, email address, and phone number.
Remember, using a third-party landing page will not help to increase the SEO ranking for your own website to ensure that you host your landing pages on your own server. This will bring traffic to your own website.
Make use of a blog or newsletter to generate more leads
Create newsletters and blogs with valuable content that readers actually want to read. You can generate sales leads as well as backlinks by posting a high-quality blog on other websites. Apart from that, creating a newsletter will help you to stay in touch with your existing customers.
The final say
These were just a few important things to bear in mind while trying to bring in B2B sales leads. However, by trying different strategies you can always know which one works and which does not to keep your business growing with B2B leads. At last, also make sure to work with your sales team closely when you are designing your lead generation campaign. Remember, the more you involve your sales team, the less they will ignore your leads. If you have any questions about B2B sales lead generation, our team of expert in on the beck to help.